Black Hills Classic Getaway
6 NIGHTS for
2 ADULTS
$3,700
*Rates are based on 2023 high season.
**All vacations are individually customized to you and your family.
Vacation Highlights: Badlands National Park, Downtown Historic Deadwood, Rapid City & Hill City, Custer State Park, Mt. Rushmore, Crazy Horse, Iron Mountain Road, Needles Highway, Spearfish Canyon, Cement Ridge, the ghost town of Tinton & more!
TWO NIGHTS

in Rapid City at a beautiful hotel listed on the National Register of Historic Places and boasting a multimillion dollar preservation and restoration project completed in 2011. Here, you will check into a traditional guest room with a king sized pillow top bed with triple sheeting, granite desk top, flat panel TV, refined bath amenities, his and her robes, hair dryer, alarm clock with ipod dock and high speed wi-fi. Your hotel was recently name the best hotel in the Black Hills and features not only rich historic ambiance of the 1920's, but a superb location in the heart of downtown, and modern amenities including a fitness center, lounge and laundry service.

TWO NIGHTS

at a hideaway retreat with a guest ranch flavor offering a charming Western experience in the scenic surroundings of Custer State Park. Your cozy log cabin features 2 queen beds, a fireplace, private bathroom, TV, small microwave, refrigerator, and a 2-burner stove top. All cabins are non-smoking, have daily maid service and feature an outdoor fire pit. Lodging facilities include several western activities (horse back riding, cookouts, hay wagon ride) and an on-site restaurant.

TWO NIGHTS

ideally located downtown in the center of Deadwood's famous restaurants, casinos, and nightlife. Rated one of the top hotels in Deadwood and is actually located on the site of Deadwood's first hotel in 1876. Your non-smoking room provides a king sized bed, in-room coffee, heated towels, large outdoor sun deck, fine European soaps/amenities and free breakfast bar.

HORSE DRAWN CHUCK WAGON COOKOUT


Join South Dakota Wranglers for an evening of good food and great entertainment. Arrive early and browse the Dances With Wolves film set and the Fort Hays Workshops. Serving up BBQ Beef, Potatoes, Beans, Biscuits, Applesauce and Cake on homemade tin plates with drinks poured into tin cups. After dinner, the Fort Hays Wranglers take the stage to entertain you with the Black Hills most popular western music variety show with over an hour of music and comedy.

SCENIC HORSEBACK


riding through the beautiful Custer State Park is an unforgettable experience. With over 71,000 acres, your half-day trail ride will put you up close to wildlife, rugged plains, forest streams and more. Lunch is included on your ride. Shorter rides available. Professional, kind and courteous guides take their time and love to share their passion for horses with guests.

LOST TRAILS BACK COUNTRY JEEP TOUR

will begin from atop Terry Peak, buried in the Black Hills National Forest. Your experienced guide will pick you up for a full morning of pure back woods adventure. Your route takes you through Spearfish Canyon with stops for a variety of waterfalls and up to Cement Ridge (6,647') for unsurpassed views of the surrounding area. Lastly, you head to the eerie ghost town of Tinton and the remote mountain lake called Iron Creek Lake. Your tour guide, Jake, has been touring the Black Hills for over 40 years and can tailor this adventure to your personal preferences. A light deli-style lunch with snacks and sodas is provided.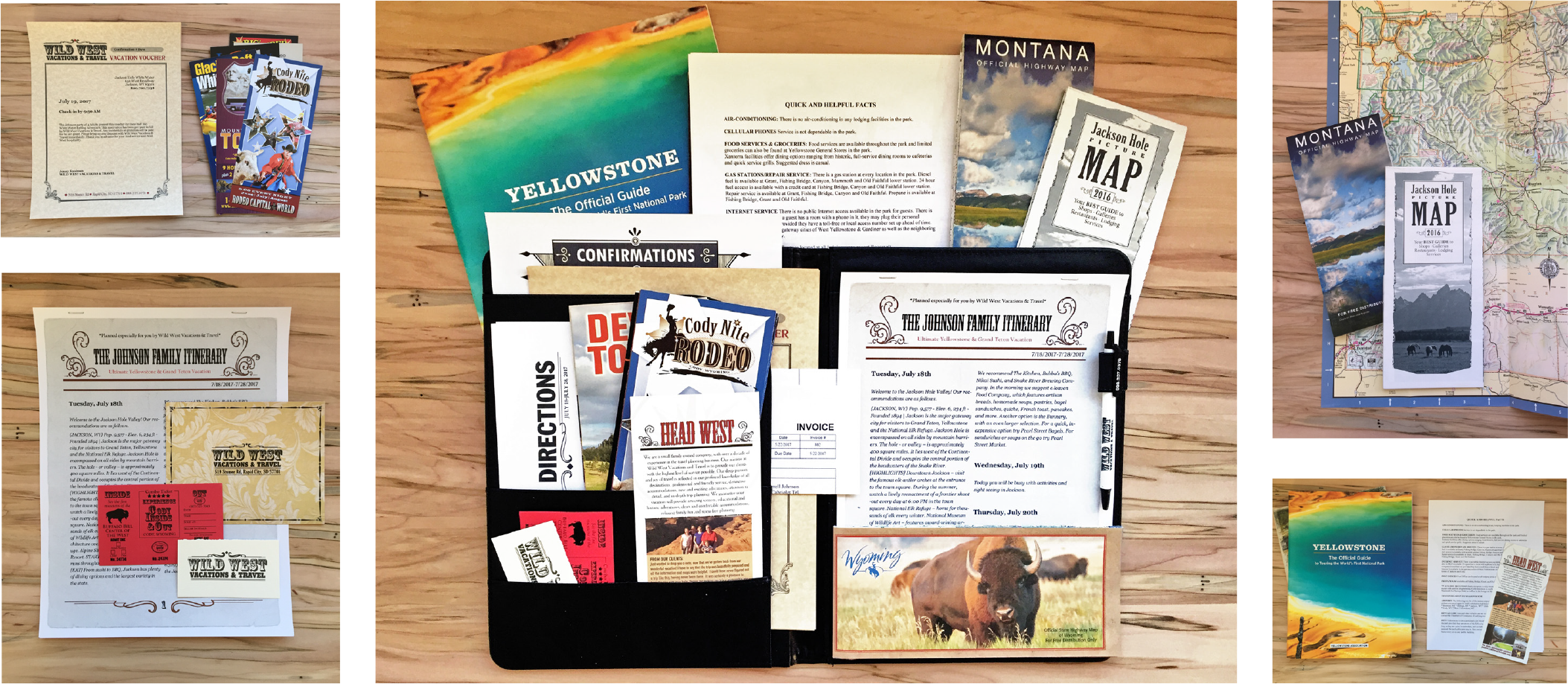 Vouchers & Brochures
You will receive vouchers and brochures for all of your accommodations and activities. Check-in quickly with confidence and ease.
Wild West Vacation Folio
Your personalized vacation folio is full of helpful information, vacation documentation and personal recommendations.
Itinerary
We take great pride in providing you a day-by-day itinerary with history of the area, sight seeing, hiking options, dining recommendations and more.
Maps & Directions
We provide city and state maps marked with your route, along with point a-to-b directions for every step of the way.
Extras
From what to pack for you Wild West Vacation to special events listings to area guidebooks, we've got you covered.
We guarantee this package will provide amazing scenery, educational and historic adventures, clean and comfortable accommodations, relaxing family fun and stress-free planning. Accommodations are subject to availability.