Yellowstone & Teton Ultimate Family Getaway
9 NIGHTS for
2 ADULTS & 2 CHILDREN (ages 11 & under)
$5,950
*Rates are based on 2023 high season.
**All vacations are individually customized to you and your family.
Vacation Highlights: Downtown Jackson & Cody, WY, Yellowstone National Park (including Old Faithful, the Grand Canyon of Yellowstone, Mammoth Hot Springs, Norris Geyser Basin, & Lake Yellowstone), Grand Teton National Park (including Jenny Lake, Inspiration Point and Jackson Lake), and Authentic Wyoming Guest Ranch experience. Two Night Stay at Top-Notch Guest Ranch & Breakfast Trail Ride, Guided White Water Rafting Trip w/Breakfast, Guided Yellowstone Wildlife Safari, Chuck Wagon Cookout & Western Show, Tickets to a Professional Rodeo & Guided Breakfast Cruise on Jackson Lake
TWO NIGHT
located four blocks from town square at a lovely eclectic property, conveniently located in the heart of Jackson. Stay in a new, individual log cabin with two queen beds in the sleeping area, a sofa sleeper, kitchenette, AC, wi-fi, cable TV, telephone and custom log furniture. Guests come back, year after year, not only for the location and friendly staff but for the amenities, including a a large BBQ picnic area, hot tub, fitness room and guest laundry.

TWO NIGHT
centralized between Yellowstone & Cody at an authentic Wyoming Guest Ranch. Stay in a rustic cowboy cabin, featuring western decor, two queen beds, a daybed, mini-fridge, coffee maker, and an outdoor porch for relaxing (no TV or telephone). The ranch also has fishing equipment, lounge, game room, firepit and a gentle creek running through the property.

TWO NIGHT
near the renowned Grand Canyon of Yellowstone and its Lower Falls at the most central of the park's 9 locations. Your attractively decorated hotel room has modern western-themed lodge furniture, two double beds, and full bath. This location is ideal for hiking and sight seeing, and also has a restaurant, grill, deli, gift store, general store and laundry facilities on sight. *Please note that all park accommodations are non-smoking and reflect the natural surroundings of Yellowstone; televisions, radios, air conditioning, and internet hook-ups are not available.* ALL YELLOWSTONE ACCOMMODATIONS ARE SUBJECT TO AVAILABILITY.

ONE NIGHT
located in the heart of Paradise Valley, just north of Yellowstone, nestled in the foothills of the breathtaking Absaroka Mountain Range, surrounded by the Gallatin National Forest. Stay in a elegant western style room in the lower lodge with two queen beds, private bathroom, internet access, coffee pot, hair dryer, iron/ironing board and modern appointments. This Resort offers an extraordinary variety of accommodations, exceptional fine dining (featuring ingredients from their own garden), guest laundry, two natural hot springs pools, day spa, live entertainment and plenty of outdoor activities, including hiking, white water and horse back rides.

TWO NIGHT
in the Grand Teton National Park surrounded by pine trees and the majestic beauty of the Grand Teton Mountain Range. Check in to a Classic Cottage located in single-story clusters just outside the main building, featuring a private entrance with two queen beds, full bath, hair dryer, iron, ironing board, and a coffee pot. The room will have a phone and complimentary wifi, but no televisions, radios, or air conditioning. Facilities include: gift and apparel shops, heated outdoor pool, a service station and a medical clinic.

WHITE WATER RAFTING TRIP Join the best rafting team in Jackson Hole for a white water adventure of a lifetime. Your courteous and knowledgeable guide will take you down 8 miles of the Snake River Canyon through stunning scenery. You will encounter downstream rapids like Three Oar Deal, Big Kahuna, Lunch Counter, Rope & Champagne, along with calm stretches to relax or even get out and swim. Depending on the time of year, rapids are class II-III out of IV. Round trip is 3 1/2 to 4 hours. One of our most popular activities! Ages 6 and above.

 

CHUCK WAGON COOKOUT & WESTERN SHOW will bring you back to the 1800's as you climb aboard a horse-drawn covered wagon and ride to an outdoor dining room on the bank of a clear mountain stream in beautiful Cache Creek Canyon. Your dinner includes roast beef, barbecued chicken, corn on the cob, Dutch oven baked beans, green salad, rolls, coffee, lemonade and brownies. Top off your evening whoopin' it up with the singing Cowboys, Indians and Mountain Man.

 

ONE ALL-INCLUSIVE DAY Your all-inclusive day at the ranch includes a hearty breakfast, 4-hour horse back ride with trail side lunch - cooked over an open fire, and a gourmet dinner in the dining room. Your horse back ride features beautiful Alpine meadows and dense forests, clear streams and high country vistas. Wildlife sightings range from chipmunks and squirrels to moose, elk, deer, bear or stray buffalo. The horses and cowboys are very familiar with the terrain and well trained and have taken thousands of rides over hundreds of miles. Rides are small and intimate, to provide each guest with memories that will last a lifetime.

 

PROFESSIONAL RODEO TICKETS Experience a truly Western event that has its roots in ranch contests and games as well as spectacle and drama borrowed from the world famous Buffalo Bill Wild West shows. Hold on and enjoy as the cowboys and cowgirls go from calf ropin' to full on bull ridin' and see why Cody is known as the Rodeo Capital of the World. Your tickets are general admission, so you have the opportunity to sit in the Buzzard Roost - right above the bucking chutes!

 

HISTORIC YELLOW BUS "EVENING WILDLIFE ENCOUNTERS" This trip takes you to the Northern Range, including Lamar Valley, which provides the perfect habitat for bears, wolves, elk bison, pronghorn and bighorn sheep. If the wildlife is around, the combination of early evening hours and a Historic Yellow Bus creates a perfect opportunity for wildlife watching. Bring your camera, binoculars, water and snacks if necessary. This excursion may include some walking. Approximately 3 hours round trip. All ages.


SCENIC LAKE BREAKFAST CRUISE There is no better way to start your day, then on a private island in the shadow of the Grand Tetons, enjoying an all-you-can-eat freshly prepared breakfast, including smoked trout, hash browns, eggs, fresh fruit, coffee and more. Your educational cruise on the scenic waters of Jackson Lake is full of history, folk lore and early morning wildlife.

 

 

 

YELLOWSTONE NATIONAL PARK
Including Mammoth Hot Springs, Lamar Valley, Grand Canyon of Yellowstone, Norris Geyser Basin, Old Faithful and more. [$25 Admission fee]

GRAND TETON NP
Including Moose, WY, Jenny Lake, Inspiration Point, Native American Museum, Leeks Marina and more. [$25 Admission fee]

*Please note the cost of entrance is not included in the package price.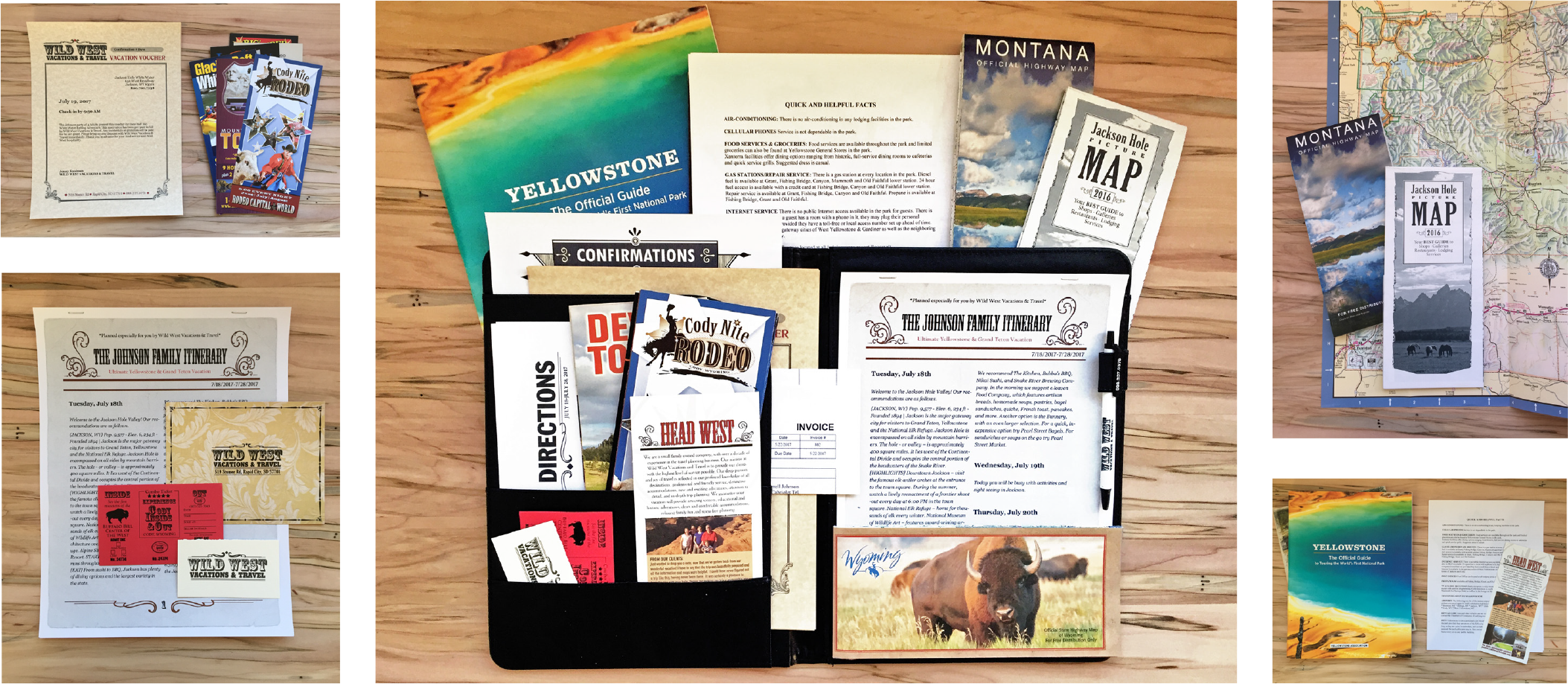 Vouchers & Brochures
You will receive vouchers and brochures for all of your accommodations and activities. Check-in quickly with confidence and ease.
Wild West Vacation Folio
Your personalized vacation folio is full of helpful information, vacation documentation and personal recommendations.
Itinerary
We take great pride in providing you a day-by-day itinerary with history of the area, sight seeing, hiking options, dining recommendations and more.
Maps & Directions
We provide city and state maps marked with your route, along with point a-to-b directions for every step of the way.
Extras
From what to pack for you Wild West Vacation to special events listings to area guidebooks, we've got you covered.
We guarantee this package will provide amazing scenery, educational and historic adventures, clean and comfortable accommodations, relaxing family fun and stress-free planning. Accommodations are subject to availability.