Yellowstone & Teton Getaway
6 NIGHTS for
2 ADULTS
$4,375
*Rates are based on 2023 high season.
**All vacations are individually customized to you and your family.
Vacation Highlights: Downtown Jackson & Cody, WY, Yellowstone National Park (including Old Faithful, the Grand Canyon of Yellowstone, Mammoth Hot Springs, Norris Geyser Basin, & Lake Yellowstone), & Grand Teton National Park (including Jenny Lake, Inspiration Point and Jackson Lake)
TWO NIGHT
at a beautiful, eco-friendly hotel within walking distance to galleries, restaurants and shops of historic downtown Jackson. Traditional guest rooms offer your choice of a king bed or two queen beds with triple sheet bedding, western themed interior, microwave, mini-fridge, oven, coffeemaker, cable TV with HBO, hairdryer, iron, ironing board, and more. In addition to western hospitality and modern luxuries, your hotel provides complimentary airport pickup, free wi-fi, on site laundry, hot continental breakfast, indoor swimming pool and hot tub.

ONE NIGHT
at the eastern gateway to Yellowstone in a small western town with a friendly attitude, named after Colonel William F. "Buffalo Bill" Cody. Here, you will stay in a modern log cabin, with a king sized bed, flat screen TV, micro/fridge, coffee maker, hair dryer, wi-fi, western motifs, outdoor porch with chairs and more. The property is the number one rated hotel in Cody, and features an extra large heated outdoor spa and complimentary continental breakfast.

TWO NIGHT
near the renowned Grand Canyon of Yellowstone and its Lower Falls at the most central of the park's 9 locations. Your attractively decorated hotel room has modern western-themed lodge furniture, two double beds, and full bath. This location is ideal for hiking and sight seeing, and also has a restaurant, grill, deli, gift store, general store and laundry facilities on sight. *Please note that all park accommodations are non-smoking and reflect the natural surroundings of Yellowstone; televisions, radios, air conditioning, and internet hook-ups are not available.*

ONE NIGHT
in the Grand Teton National Park surrounded by pine trees and the majestic beauty of the Grand Teton Mountain Range. Check in to a Patio Cottage located in single-story clusters just outside the main building, featuring a private entrance with two queen beds and a full bath. Your accommodations here offer a patio overlooking a forest setting, complete with two outdoor wooden chairs. Each room has a private entrance with a single king bed and a private bath. *Please note, rooms do not have televisions or radios, but do have telephones, voice mail and data ports.* Facilities include: gift and apparel shops, heated outdoor pool, a service station and a medical clinic.

SNAKE RIVER SCENIC FLOAT
Cruise through the beautiful Snake River Valley in a comfortable guided raft, with the snow-capped Teton Mt Range as your backdrop. Your 13-Mile journey offers plenty of wildlife viewing and some of the best eagle-nesting habitat in the country. Be sure to bring a camera, as you might also see deer, otters, an occasional moose or elk, eagles, kingfishers, and osprey. Your friendly, knowledgeable guide will provide binoculars and a deli style lunch on the raft. Round trip is approx. 3 hours.

GUIDED TROLLEY TOUR
Enjoy a 60-minute, 22-mile tour with two live narrators, historical photos, pass-around relics and entertaining audio clips, to share the story of world-famous William F. "Buffalo Bill" Cody. From the cozy oak interior of a festive trolley, visit and learn about Cody's historical sites, scenic vistas, geology, wildlife and old and new west attractions. The best and fastest way to gain an overview of all that Cody has to offer and a delight for the entire family. Learn 100 years of history in one hour!

HISTORICAL CENTER ADMISSION
Boasting five internationally-acclaimed museums under one roof! The interactive museum of natural history is always a hit with the kids and all ages will enjoy learning about the amazing life of "Buffalo" Bill Cody. You will also learn the stories of the Plains Indians, see the west through the eyes of various artists and discover the role of firearms in Western History. Your trip to Wyoming isn't complete without a visit to one of the most complete museums of western history in the country.

HISTORIC YELLOW BUS "EVENING WILDLIFE ENCOUNTERS"
This trip takes you to the Northern Range, including Lamar Valley, which provides the perfect habitat for bears, wolves, elk bison, pronghorn and bighorn sheep. If the wildlife is around, the combination of early evening hours and a Historic Yellow Bus creates a perfect opportunity for wildlife watching. Bring your camera, binoculars, water and snacks if necessary. This excursion may include some walking. Approximately 3 hours round trip. All ages.

2-HOUR HORSEBACK TETON TRAIL RIDE
No trip to the Old West is complete without a horseback ride through Grand Teton National Park. Seeing the magnificent Teton views from horseback, the same way the early explorers traveled, will create a lasting connection between you and the Grand Teton landscape. Your two-hour ride heads north, crosses the willows, and then climbs to the high ground east of Christian Pond before reaching Emma Matilda Lake. On the return trip, you pass the Oxbow Bend Overlook. Ages 8 and above only.

SCENIC LUNCHEON FLOAT TRIP
Yellowstone Lake is the largest freshwater lake above 7,000 feet in North America and is home to native Cutthroat Trout and the exotic Lake Trout. Your fishing trip leaves from the Bridge Bay Marina in a 22' Grady White and includes an experienced fishing and/or tour guide, fishing gear (rods and tackle), life jackets for each person, gas, and fish cleaning upon request. While on the water, passengers are not only fishing, but also treated to history of the area, while watching for eagles, ospreys, and such shoreline wanderers as waterfowl, and occasional elk and bison. Maximum of 6 passengers.

 

DEVILS TOWER NATIONAL MONUMENT
A monolith or volcanic neck that rises a dramatic 1267 feet (386 m) above the surrounding terrain. The Tower is sacred to several Native American Plains tribes, including the Lakota, Sioux, Cheyenne and Kiowa. [$10 Admission fee]

YELLOWSTONE NATIONAL PARK
Including Mammoth Hot Springs, Lamar Valley, Grand Canyon of Yellowstone, Norris Geyser Basin, Old Faithful and more. [$25 Admission fee]

GRAND TETON NP
Including Moose, WY, Jenny Lake, Inspiration Point, Native American Museum, Leeks Marina and more. [$25 Admission fee]

*Please note the cost of entrance is not included in the package price.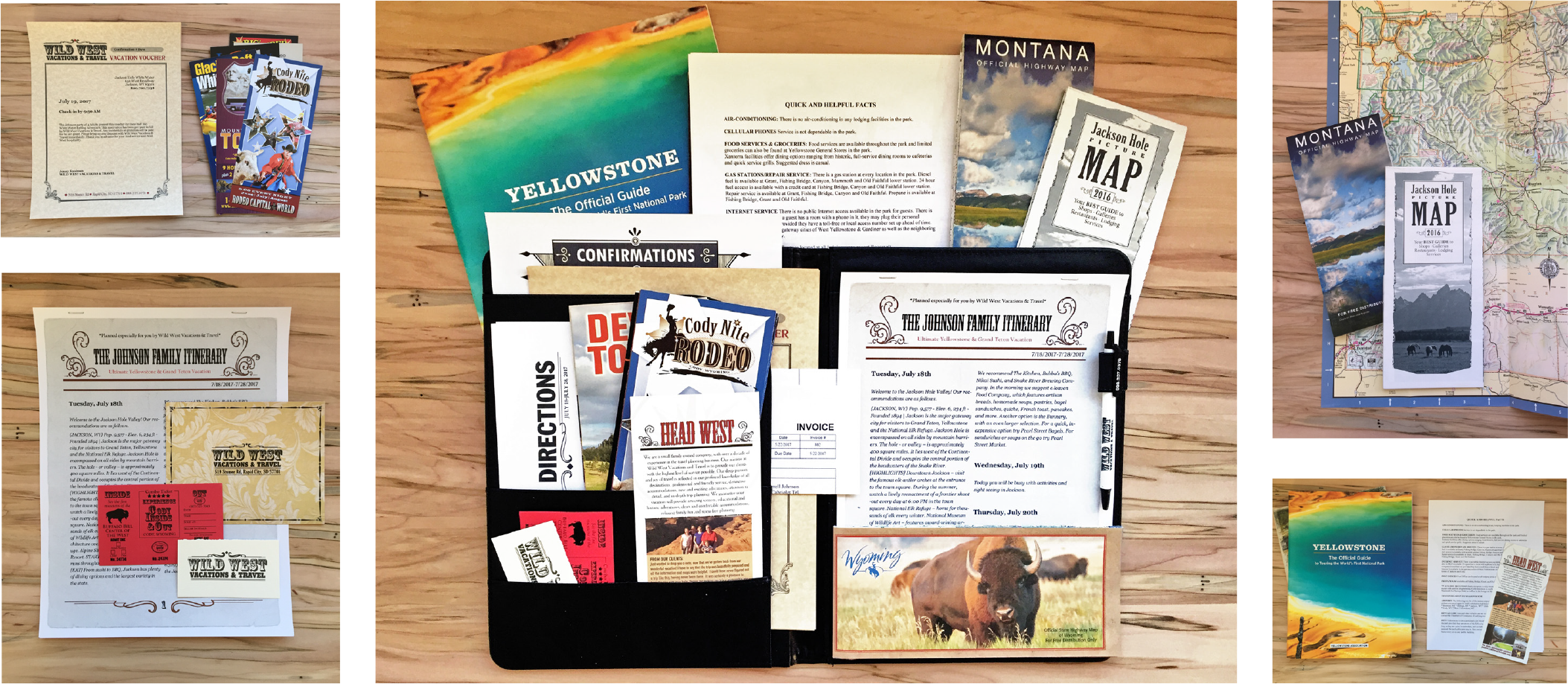 Vouchers & Brochures
You will receive vouchers and brochures for all of your accommodations and activities. Check-in quickly with confidence and ease.
Wild West Vacation Folio
Your personalized vacation folio is full of helpful information, vacation documentation and personal recommendations.
Itinerary
We take great pride in providing you a day-by-day itinerary with history of the area, sight seeing, hiking options, dining recommendations and more.
Maps & Directions
We provide city and state maps marked with your route, along with point a-to-b directions for every step of the way.
Extras
From what to pack for you Wild West Vacation to special events listings to area guidebooks, we've got you covered.
We guarantee this package will provide amazing scenery, educational and historic adventures, clean and comfortable accommodations, relaxing family fun and stress-free planning. Accommodations are subject to availability.