BLACK HILLS DELUXE GETAWAY
7 NIGHTS for
2 ADULTS
$4,450
*Rates are based on 2023 high season.
**All vacations are individually customized to you and your family.
Vacation Highlights: Badlands National Park, Downtown Historic Deadwood, Rapid City & Hill City, Custer State Park, Mt. Rushmore, Crazy Horse, Iron Mountain Road, Needles Highway, Cement Ridge & the ghost town of Tinton
Accomodations

TWO NIGHTS
nestled in the Black Hills Ponderosa Pine at a comfortable and tasteful bed and breakfast, just a short, scenic drive from Rapid City. This 100-year old property features a beautiful wrap around deck on both levels with breath taking views and the peaceful sound of Rapid Creek just below. Stay in a well-appointed lodge room with a king sized bed and private bathroom. Your retreat also features wi-fi, non-smoking rooms and a delicious, healthy breakfast each morning.

TWO NIGHTS
amidst a forest of pine and spruce trees where Harney Peak looms overhead and the waters of Sylvan Lake sparkle below. Here, you will stay in the Lodge designed by Frank Lloyd Wright in a cozy room with two double beds, bathroom, TV & AC. The lodge features a beautiful lobby, lounge, general store and restaurant. At this ideal location you can throw in a fishing line, take a swim, rent a kayak, lay on the beach, hike on a network of trails or enjoy fantastic views in the dining room.

TWO NIGHTS
atop Terry Peak overlooking thousands of acres of Ponderosa Pine and only minutes away from downtown Deadwood and Spearfish Canyon. You will stay in a 3-bedroom private log cabin with another bedroom/loft area, two bathrooms, full kitchen, TV, game room, fireplace, huge deck with hammock and grill, hot tub and plenty of room for the whole family, but quaint enough for a romantic getaway. Sit in the hot tub and breathe in the fresh air or just relax in front of the wood-burning fireplace – you'll feel so at home you might just move back!

ONE NIGHT
located 6 miles from the headquarters of Badlands National Park and 1 hour east of Rapid City, at a 3,000 acre guest ranch. This off-the-beaten-path, family owned B&B offers a relaxing, friendly atmosphere, with unbelievable views. You will stay in a clean, western style room in the main house, with a king sized bed, full bathroom and AC. The ranch features a fully equipped guest kitchen, game room, movies, wi-fi, viewing porch, hiking, horses, burros, rock and fossil hunting, bon fires, chicken feeding, great conversation, local insight, along with a home cooked breakfast every morning.

Activities

WILDLIFE PARK ADMISSION
Nestled over 250 acres amidst towering pines and along rolling meadows just eight miles south of Rapid City, South Dakota. From the comfort of your vehicle, you can watch as local bears frolic in a pool, climb trees and amble across the road in front of your vehicle. Your three mile drive will also include encounters with elk, reindeer, deer, cougars, bobcats, rocky mountain goats, bighorn sheep, dall sheep & buffalo. You will want to allot approximately 2 hours or more for touring the wildlife park.

HORSE DRAWN CHUCK WAGON COOKOUT
Travel into the Black Hills National Forest to a picturesque chuck wagon campsite nestled off the beaten path in a remote mountain meadow, with beautiful views of Harney Peak. Enjoy a fantastic Steak dinner (cooked to order) over an Aspen wood fire, including Dutch oven prepared side dishes, desert and beverages, sit back at a cracklin' campfire, and listen to a great cowboy music show.

1880 TRAIN RIDE
Your two hour trip from Hill City to Keystone offers a western experience like no other. Travel the original route of the CB&Q Railroad that served the mines and mills of Hill City and Keystone. Feel the power. Hear the bellow of the engine and the whine of the whistle as it winds it's way through the scenic hills. Gliding aboard a vintage steam train, you'll feel just like those that helped settle the Great American West!

2-HOUR WILD HORSE SANCTUARY TOUR
See hundreds of wild mustangs roaming free across wind swept prairies of southern South Dakota. Travel by vehicle with a special guide to see the beautiful wild horses interacting, explore their history and learn how important horses were to early man. Special stops for photos! You will also see Native American ceremonial sites, petroglyphs and the Crazy Horse movie set.

LOST TRAILS BACK COUNTRY JEEP TOUR
will begin from atop Terry Peak, buried in the Black Hills National Forest. Your experienced guide will pick you up for a full morning of pure back woods adventure. Your route takes you through Spearfish Canyon with stops for a variety of waterfalls and up to Cement Ridge (6,647') for unsurpassed views of the surrounding area. Lastly, you head to the eerie ghost town of Tinton and the remote mountain lake called Iron Creek Lake. Your tour guide, Jake, has been touring the Black Hills for over 40 years and can tailor this adventure to your personal preferences. A light deli-style lunch with snacks and sodas is provided.

Map

More Details

Our Triple Park Tour includes recommendations, directions and history for a driving and hiking adventure through the following areas.

BADLANDS NATIONAL PARK
Including the Ben Reifel Visitors Center, Wall Drug, the Windows Overlook, the Fossil Exhibit Trail, Yellow Mounds, Pinnacles Overlook and more! [$15 entrance fee]

CUSTER STATE PARK
Including the Wildlife Loop, Needles highway, Iron Mountain Road and the pigtail bridges and more! [$15 entrance fee] MT RUSHMORE There is a lot to see and do at Mt Rushmore; a 30 minute Ranger Walk along the Presidential Trail, a 15 minute Sculptors Studio Talk, and a 30 minute audio tour. You might also spend 10-30 minutes visiting the Lakota Heritage Village. [$11 parking fee]

DEVILS TOWER NATIONAL MONUMENT
A monolith or volcanic neck that rises a dramatic 1267 feet (386 m) above the surrounding terrain. The Tower is sacred to several Native American Plains tribes, including the Lakota, Sioux, Cheyenne and Kiowa. [$10 Admission fee]

YELLOWSTONE NATIONAL PARK
Including Mammoth Hot Springs, Lamar Valley, Grand Canyon of Yellowstone, Norris Geyser Basin, Old Faithful and more. [$25 Admission fee]

GRAND TETON NP
Including Moose, WY, Jenny Lake, Inspiration Point, Native American Museum, Leeks Marina and more. [$25 Admission fee]

*Please note the cost of entrance is not included in the package price.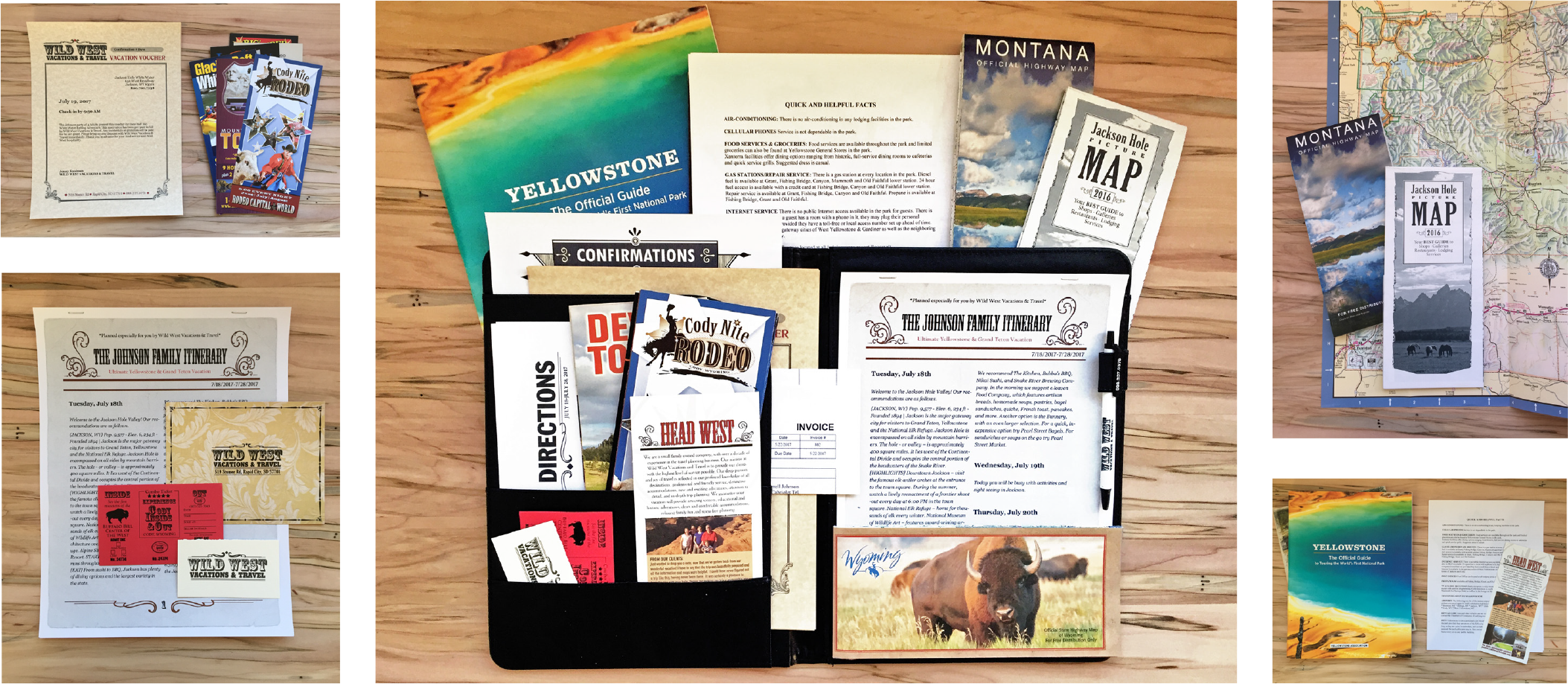 Vouchers & Brochures
You will receive vouchers and brochures for all of your accommodations and activities. Check-in quickly with confidence and ease.
Wild West Vacation Folio
Your personalized vacation folio is full of helpful information, vacation documentation and personal recommendations.
Itinerary
We take great pride in providing you a day-by-day itinerary with history of the area, sight seeing, hiking options, dining recommendations and more.
Maps & Directions
We provide city and state maps marked with your route, along with point a-to-b directions for every step of the way.
Extras
From what to pack for you Wild West Vacation to special events listings to area guidebooks, we've got you covered.
We guarantee this package will provide amazing scenery, educational and historic adventures, clean and comfortable accommodations, relaxing family fun and stress-free planning. Accommodations are subject to availability.