12 NIGHTS for
2 ADULTS & 2 CHILDREN (ages 11 & under)
$6,150
*Rates are based on 2023 high season rates.
**All vacations are individually customized to you and your family.
Yellowstone NP (including Canyon, Mammoth, Norris & Old Faithful), Glacier NP (including Going-To-The-Sun Road & Waterton Lakes), Grand Teton NP (Including Jenny Lake, Jackson Lake & Inspiration Point), Downtown Jackson, Cody & Kalispell, Paradise Valley, MT & more!

Accomodations

THREE NIGHTS at the only lakeside accommodations available in the Grand Teton National Park. Enjoy the comforts of home and experience absolute relaxation in a 2-bedroom rustic log cabin with two double beds, another double bed, twin bed or two twin beds, a full bath, and porch. *Please note that all park accommodations are non-smoking and reflect the natural surroundings of the area; televisions, radios, and air conditioning are not available.* Your resort in the Grand Tetons boasts several family activities, including guided tours, water sports, horse back riding and two amazing restaurants.


 

TWO NIGHTS located 3 miles outside of Yellowstone NP, in the middle of the Shoshone National Forest. This Guest Ranch is the perfect place to stay and unwind after a busy day exploring! Stay in a authentic western log cabin, with two rooms with a queen bed in each, bathroom, microwave and fridge. Relax on the front porch, watch for deer surrounded by cottonwood trees. Activities here include horseback riding, fishing, hiking dancing, and evening campfires. Also expect an extremely friendly staff and excellent food.


 

TWO NIGHTS near the renowned Grand Canyon of Yellowstone and its Lower Falls in the most central of the park's 9 locations. We will reserve in a simple motel-style unit built in the 1920's with two double beds and private bath. This location is ideal for hiking and sight seeing, and also has a restaurant, grill, deli, gift store, general store and laundry facilities on sight. *Please note that all park accommodations are non-smoking and reflect the natural surroundings of Yellowstone; televisions, radios, air conditioning, and internet hook-ups are not available.* ALL YELLOWSTONE ACCOMMODATIONS ARE SUBJECT TO AVAILABILITY.


 

ONE NIGHT stay in a remarkably well preserved Old West Victorian gold mining town just 90 miles west of Yellowstone NP. Your hotel in Virginia City was originally a stage stop, the stage station actually became the front portion of the hotel. You will feel as though you are back in the 1800's, with your choice of a Victorian Suite in the main hotel or a beautifully restored cabin with one or two double beds. This living ghost town features gold panning, trail rides and plenty of old buildings, historic homes, business, and museums complete with artifacts and period furnishings for you to explore. Meals are available next door at the bakery, or you can catch the steam train to Virginia City.


 

TWO NIGHTS located in northeastern Glacier NP on the shores of Swiftcurrent Lake. This chalet inspired National Historic Landmark Hotel boasts breath-taking alpine beauty and Swiss themed architecture and decor. Stay in a small rustic standard room, offering two double beds, private bath, modest amenities, and old-world style. The hotel also offers a fine dining restaurant, lounge, apres fondue, gift shop, and snack shop. Enjoy photographing the famous, panoramic views of Grinnell Point and Mt. Henkel and spotting mountain goats, big horn sheep, and bears.


 

TWO NIGHTS ideally located in beautiful Whitefish, Montana, close to Glacier NP and various outdoor activities. Your spacious room featuring your choice of a king or two queen beds, full bath with double vanity, cotton robes, coffee maker, 28″ flat screen TV, iron & ironing board, hairdryer, wi-fi, voice mail, and a daily newspaper.  Resort amenities include an indoor pool, on site restaurant, fire pit, fitness center and spa. Additional local activities include alpine slide, scenic chair lift ride, lake cruises, the wave water park, walk in the tree tops, bike rental, and alpine zip line.


Activities

CHUCK WAGON COOKOUT & WESTERN SHOW will bring you back to the 1800's as you climb aboard a horse-drawn covered wagon and ride to an outdoor dining room on the bank of a clear mountain stream in beautiful Cache Creek Canyon. Your dinner includes roast beef, barbecued chicken, corn on the cob, Dutch oven baked beans, green salad, rolls, coffee, lemonade and brownies. Top off your evening whoopin' it up with the singing Cowboys, Indians and Mountain Man.



 

MORNING RIDE WITH TRAIL SIDE BREAKFAST Saddle up at an authentic Wyoming Guest Ranch for a 2-hour trail ride through the Shoshone National Forest. Travel through unforgettable Wyoming landscapes  along the borders of Yellowstone National Park. Gentle and capable horses are hand picked for you, so sit back and relax, while your friendly cowboy guide leads you through high mountain passes and scenic vistas. At the end of your ride, enjoy a trail side breakfast cooked over an open fire, amidst the cottonwood trees, by the ranch chef who specializes in delicious cowboy fare with the freshest and finest ingredients. Ages 6 and above.



 WILDLIFE CENTER Here you'll see wildlife as you've never seen it, with an up close view of live grizzly bears and a pack of gray wolves. The Center's primary mission is to provide visitors an opportunity to learn about, view, and ultimately appreciate the grizzly bear and gray wolf. There is also an IMAX Theater which has wonderful films on Yellowstone Park, for additional costs. This unique not-for-profit Wildlife Park and Educational Facility is a must stop for all wildlife fans.


 



 SWIFTCURRENT LAKE CRUISE See and feel the grandeur that makes Glacier National Park "The Crown of the Continent." Board "Chief Two Guns" for a cruise on Swiftcurrent Lake, then take a short 300 yard walk over the hill to Lake Josephine. Here the "Morning Eagle" awaits your arrival for a cruise on this pristine lake. There is a 9 a.m. & 2 p.m. guided hike to Grinnell Lake.


 




GUIDED WHITE WATER TRIP takes you down the Middle Fork of the Flathead River in the ideal setting for a fun-filled family adventure in Montana's Big Sky Country. Ride through the beautiful scenery of Montana's Glacier National Park in class II-III rapids with experienced guides who create a ride that is adventurous yet safe! After your whitewater adventure, the trip continues past the West Glacier bridge for 1⁄4 mile to a private dinner site. Guests will have a chance to change into dry clothes while the guides start preparing dinner. Standard dinner is western sirloin steaks (6 oz.), salads, veggies, dessert and beverages. With advance notice, you can also have available boneless chicken breasts or garden burgers.


Map

More Details

Our Triple Park Tour includes recommendations, directions and history for a driving and hiking adventure through the following areas.

GLACIER NP we recommend and provide directions, detailed information, hiking destinations and history for your entire time driving through Glacier National Park. Including recommended stops at Lake McDonald, St Mary Lake, Many Glacier, Two Medicine, Going-To-The-Sun-Road, Prince of Wales Hotel and more. $25 Admission fee not included in package price.

VIRGINIA CITY & NEVADA CITY, MT Virginia City is a living ghost town of 150 year round residents who host the West's best preserved gold mining town from the 1860s. Visitors walk the same boardwalks that desperate Vigilantes once patrolled. View over 100 historic buildings complete with artifacts and furnishings. Ride the stagecoach, attend a live theater show, stay the night in homey historic lodging. Shop in unique gift and specialty shops. Enjoy fine dining and old-fashioned bakery and candy shop goods.

YELLOWSTONE NATIONAL PARK
Including Mammoth Hot Springs, Lamar Valley, Grand Canyon of Yellowstone, Norris Geyser Basin, Old Faithful and more. [$25 Admission fee]

GRAND TETON NP
Including Moose, WY, Jenny Lake, Inspiration Point, Native American Museum, Leeks Marina and more. [$25 Admission fee]

*Please note the cost of entrance is not included in the package price.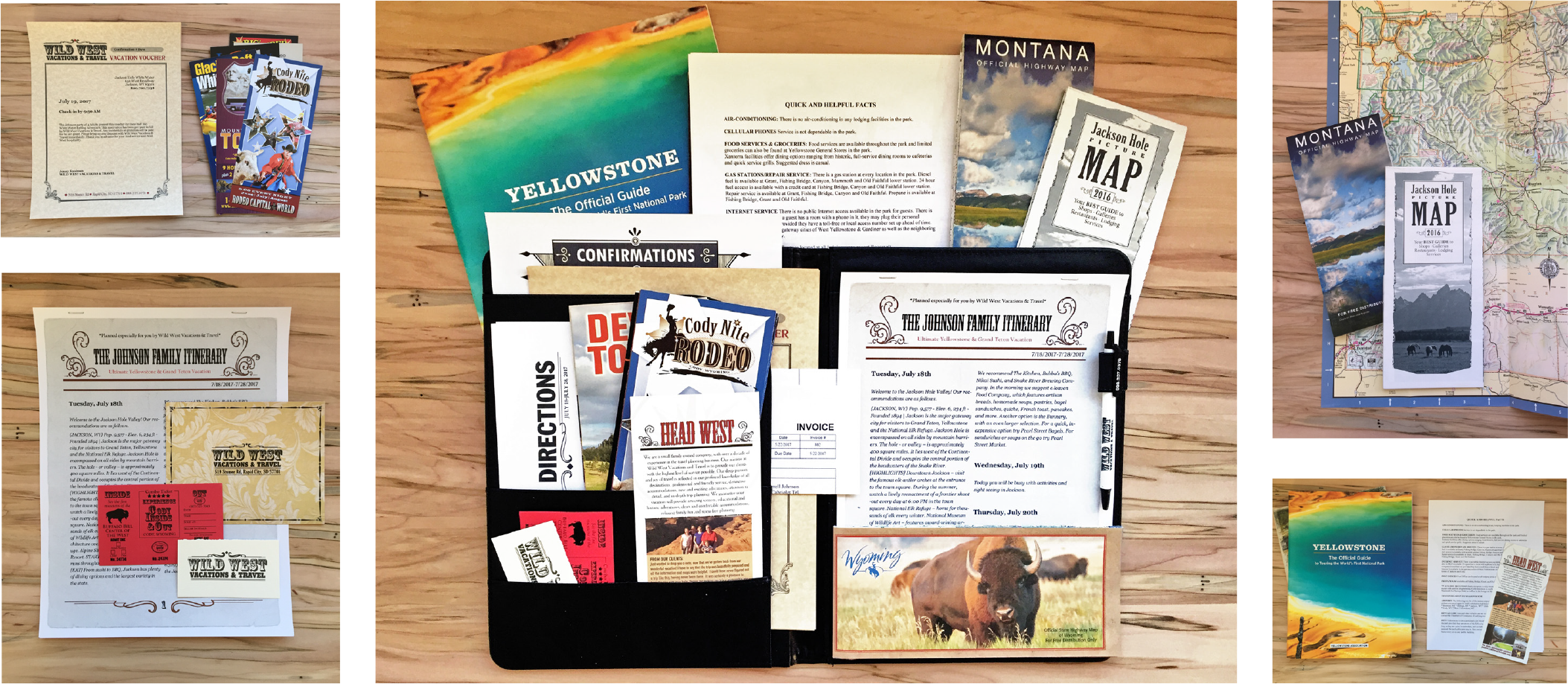 Vouchers & Brochures
You will receive vouchers and brochures for all of your accommodations and activities. Check-in quickly with confidence and ease.
Wild West Vacation Folio
Your personalized vacation folio is full of helpful information, vacation documentation and personal recommendations.
Itinerary
We take great pride in providing you a day-by-day itinerary with history of the area, sight seeing, hiking options, dining recommendations and more.
Maps & Directions
We provide city and state maps marked with your route, along with point a-to-b directions for every step of the way.
Extras
From what to pack for you Wild West Vacation to special events listings to area guidebooks, we've got you covered.
We guarantee this package will provide amazing scenery, educational and historic adventures, clean and comfortable accommodations, relaxing family fun and stress-free planning. Accommodations are subject to availability.