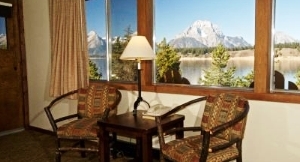 THREE NIGHTS at the only lakeside accommodations available in the Grand Teton National Park. Enjoy the comforts of home and experience absolute relaxation in a 2-bedroom rustic log cabin with two double beds, another double bed, twin bed or two twin beds, a full bath, and porch. *Please note that all park accommodations are non-smoking and reflect the natural surroundings of the area; televisions, radios, and air conditioning are not available.* Your resort in the Grand Tetons boasts several family activities, including guided tours, water sports, horse back riding and two amazing restaurants.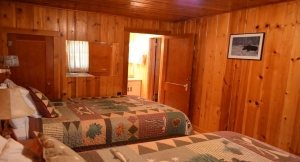 TWO NIGHTS located 3 miles outside of Yellowstone NP, in the middle of the Shoshone National Forest. This Guest Ranch is the perfect place to stay and unwind after a busy day exploring! Stay in a authentic western log cabin, with two rooms with a queen bed in each, bathroom, microwave and fridge. Relax on the front porch, watch for deer surrounded by cottonwood trees. Activities here include horseback riding, fishing, hiking dancing, and evening campfires. Also expect an extremely friendly staff and excellent food.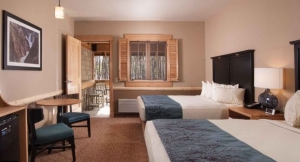 TWO NIGHTS near the renowned Grand Canyon of Yellowstone and its Lower Falls in the most central of the park's 9 locations. We will reserve in a simple motel-style unit built in the 1920's with two double beds and private bath. This location is ideal for hiking and sight seeing, and also has a restaurant, grill, deli, gift store, general store and laundry facilities on sight. *Please note that all park accommodations are non-smoking and reflect the natural surroundings of Yellowstone; televisions, radios, air conditioning, and internet hook-ups are not available.* ALL YELLOWSTONE ACCOMMODATIONS ARE SUBJECT TO AVAILABILITY.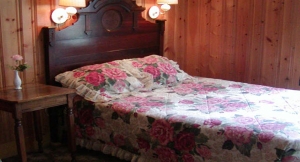 ONE NIGHT stay in a remarkably well preserved Old West Victorian gold mining town just 90 miles west of Yellowstone NP. Your hotel in Virginia City was originally a stage stop, the stage station actually became the front portion of the hotel. You will feel as though you are back in the 1800's, with your choice of a Victorian Suite in the main hotel or a beautifully restored cabin with one or two double beds. This living ghost town features gold panning, trail rides and plenty of old buildings, historic homes, business, and museums complete with artifacts and period furnishings for you to explore. Meals are available next door at the bakery, or you can catch the steam train to Virginia City.

TWO NIGHTS located in northeastern Glacier NP on the shores of Swiftcurrent Lake. This chalet inspired National Historic Landmark Hotel boasts breath-taking alpine beauty and Swiss themed architecture and decor. Stay in a small rustic standard room, offering two double beds, private bath, modest amenities, and old-world style. The hotel also offers a fine dining restaurant, lounge, apres fondue, gift shop, and snack shop. Enjoy photographing the famous, panoramic views of Grinnell Point and Mt. Henkel and spotting mountain goats, big horn sheep, and bears.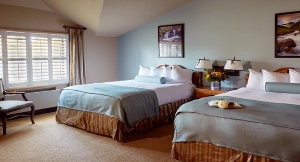 TWO NIGHTS ideally located in beautiful Whitefish, Montana, close to Glacier NP and various outdoor activities. Your spacious room featuring your choice of a king or two queen beds, full bath with double vanity, cotton robes, coffee maker, 28″ flat screen TV, iron & ironing board, hairdryer, wi-fi, voice mail, and a daily newspaper.  Resort amenities include an indoor pool, on site restaurant, fire pit, fitness center and spa. Additional local activities include alpine slide, scenic chair lift ride, lake cruises, the wave water park, walk in the tree tops, bike rental, and alpine zip line.