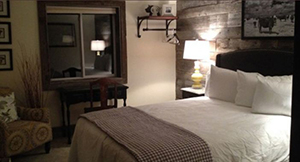 ONE NIGHT
located 6 miles from the headquarters of Badlands National Park and 1 hour east of Rapid City at a 3,000 acre guest ranch. This off-the-beaten-path, family owned B&B offers a relaxing, friendly atmosphere, with unbelievable views. You will stay in a clean, western style room in the main house, with two queen sized beds, full bathroom and AC. The ranch features a fully equipped guest kitchen, game room, movies, wi-fi, viewing porch, hiking, horses, burros, rock and fossil hunting, bon fires, chicken feeding, great conversation and local insight, along with a home cooked breakfast every morning.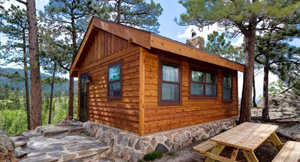 TWO NIGHTS
amidst a forest of pine and spruce trees where Harney Peak looms overhead and the waters of Sylvan Lake sparkle below. Here, you will stay nestled in the forest in a rustic modernized cabin with two queen beds, bathroom, fireplace and TV. The lodge on site features a lounge, general store and restaurant. At this ideal location you can throw in a fishing line, take a swim, rent a kayak, lay on the beach, hike on a network of trails or enjoy fantastic views in the dining room.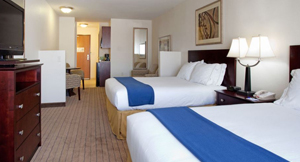 ONE NIGHT
less than two miles away from downtown Buffalo, WY in the peaceful countryside near the Big Horn Mountains. Check into a standard room with your choice of a king or two queen beds with luxurious bedding, LCD TV, smart bath collection, wi-fi, granite countertops, desk, phone, hair dryer, coffee maker, mini fridge and microwave. Hotel amenities include indoor pool, whirlpool, guest laundry, fitness center, complimentary hot breakfast bar and local paper each morning.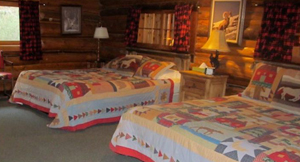 TWO NIGHTS
centralized between Yellowstone & Cody at an authentic Wyoming Guest Ranch. Stay in a rustic cowboy cabin, featuring western decor, two queen beds, a daybed, mini-fridge, coffee maker, and an outdoor porch for relaxing (no TV or telephone). The ranch also has fishing equipment, lounge, game room, firepit and a gentle creek running through the property.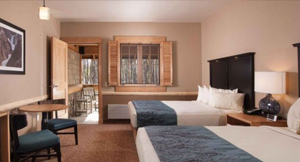 TWO NIGHTS
near the renowned Grand Canyon of Yellowstone and its Lower Falls at the most central of the park's 9 locations. Your attractively decorated hotel room has modern western-themed lodge furniture, two double beds, and full bath. This location is ideal for hiking and sight seeing, and also has a restaurant, grill, deli, gift store, general store and laundry facilities on sight. *Please note that all park accommodations are non-smoking and reflect the natural surroundings of Yellowstone; televisions, radios, air conditioning, and internet hook-ups are not available.* ALL YELLOWSTONE ACCOMMODATIONS ARE SUBJECT TO AVAILABILITY.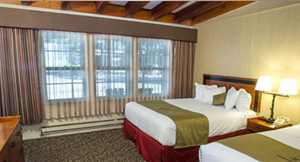 TWO NIGHTS
in the Grand Teton National Park surrounded by pine trees and the majestic beauty of the Grand Teton Mountain Range. Check in to a Classic Cottage located in single-story clusters just outside the main building, featuring a private entrance with two queen beds, full bath, hair dryer, iron, ironing board, and a coffee pot. The room will have a phone and complimentary wifi, but no televisions, radios, or air conditioning. Facilities include: gift and apparel shops, heated outdoor pool, a service station and a medical clinic.