10 NIGHTS for
2 ADULTS & 2 CHILDREN (ages 11 & under)
$6,195
*Rates are based on 2023 high season rates.
**All vacations are individually customized to you and your family.
Badlands NP, Custer State Park, Mt. Rushmore, Crazy Horse, Deadwood, Devils Tower National Monument, Bighorn Mt. Scenic Byway, Yellowstone NP (including Canyon, Mammoth, Norris & Old Faithful), Grand Teton NP, Paradise Valley, MT & more!

Accomodations

ONE NIGHT
located 6 miles from the headquarters of Badlands National Park and 1 hour east of Rapid City at a 3,000 acre guest ranch. This off-the-beaten-path, family owned B&B offers a relaxing, friendly atmosphere, with unbelievable views. You will stay in a clean, western style room in the main house, with two queen sized beds, full bathroom and AC. The ranch features a fully equipped guest kitchen, game room, movies, wi-fi, viewing porch, hiking, horses, burros, rock and fossil hunting, bon fires, chicken feeding, great conversation and local insight, along with a home cooked breakfast every morning.

TWO NIGHTS
amidst a forest of pine and spruce trees where Harney Peak looms overhead and the waters of Sylvan Lake sparkle below. Here, you will stay nestled in the forest in a rustic modernized cabin with two queen beds, bathroom, fireplace and TV. The lodge on site features a lounge, general store and restaurant. At this ideal location you can throw in a fishing line, take a swim, rent a kayak, lay on the beach, hike on a network of trails or enjoy fantastic views in the dining room.

ONE NIGHT
less than two miles away from downtown Buffalo, WY in the peaceful countryside near the Big Horn Mountains. Check into a standard room with your choice of a king or two queen beds with luxurious bedding, LCD TV, smart bath collection, wi-fi, granite countertops, desk, phone, hair dryer, coffee maker, mini fridge and microwave. Hotel amenities include indoor pool, whirlpool, guest laundry, fitness center, complimentary hot breakfast bar and local paper each morning.

TWO NIGHTS
centralized between Yellowstone & Cody at an authentic Wyoming Guest Ranch. Stay in a rustic cowboy cabin, featuring western decor, two queen beds, a daybed, mini-fridge, coffee maker, and an outdoor porch for relaxing (no TV or telephone). The ranch also has fishing equipment, lounge, game room, firepit and a gentle creek running through the property.

TWO NIGHTS
near the renowned Grand Canyon of Yellowstone and its Lower Falls at the most central of the park's 9 locations. Your attractively decorated hotel room has modern western-themed lodge furniture, two double beds, and full bath. This location is ideal for hiking and sight seeing, and also has a restaurant, grill, deli, gift store, general store and laundry facilities on sight. *Please note that all park accommodations are non-smoking and reflect the natural surroundings of Yellowstone; televisions, radios, air conditioning, and internet hook-ups are not available.* ALL YELLOWSTONE ACCOMMODATIONS ARE SUBJECT TO AVAILABILITY.

TWO NIGHTS
in the Grand Teton National Park surrounded by pine trees and the majestic beauty of the Grand Teton Mountain Range. Check in to a Classic Cottage located in single-story clusters just outside the main building, featuring a private entrance with two queen beds, full bath, hair dryer, iron, ironing board, and a coffee pot. The room will have a phone and complimentary wifi, but no televisions, radios, or air conditioning. Facilities include: gift and apparel shops, heated outdoor pool, a service station and a medical clinic.

Activities

HORSE DRAWN CHUCK WAGON COOKOUT
Travel into the Black Hills National Forest to a picturesque chuck wagon campsite nestled off the beaten path in a remote mountain meadow, with beautiful views of Harney Peak. Enjoy a fantastic Steak dinner (cooked to order) over an Aspen wood fire, including Dutch oven prepared side dishes, desert and beverages, sit back at a cracklin' campfire, and listen to a great cowboy music show. The most authentic chuck wagon supper show in the Black Hills!



GOLD PANNING LESSON & MINE TOUR
Travel back in time as you tour an authentic 1890's gold mine. You will see a stamp mill, a bell crusher and jaw crusher, winches, blacksmith equipment and a display of an original assay office. Professional guides describe the process that miners used to extract the gold from the gold ore. The mill contains thousands of artifacts that have been found as three working mines in the Black Hills were reclaimed and torn down. Gold panning included. Gift store and eatery on site.





ONE ALL-INCLUSIVE DAY
Your all-inclusive day at the ranch includes a hearty breakfast, 4-hour horse back ride with trail side lunch - cooked over an open fire, and a gourmet dinner in the dining room. Your horse back ride features beautiful Alpine meadows and dense forests, clear streams and high country vistas. Wildlife sightings range from chipmunks and squirrels to moose, elk, deer, bear or stray buffalo. The horses and cowboys are very familiar with the terrain and well trained and have taken thousands of rides over hundreds of miles. Rides are small and intimate, to provide each guest with memories that will last a lifetime.

PROFESSIONAL RODEO TICKETS
Experience a truly Western event that has its roots in ranch contests and games as well as spectacle and drama borrowed from the world famous Buffalo Bill Wild West shows. Hold on and enjoy as the cowboys and cowgirls go from calf ropin' to full on bull ridin' and see why Cody is known as the Rodeo Capital of the World. Your tickets are general admission, so you have the opportunity to sit in the Buzzard Roost - right above the bucking chutes!





2-HOUR GUIDED FISHING TRIP
Yellowstone Lake is the largest freshwater lake above 7,000 feet in North America and is home to native Cutthroat Trout and the exotic Lake Trout. Your fishing trip leaves from the Bridge Bay Marina in a 22' Grady White and includes an experienced fishing and/or tour guide, fishing gear (rods and tackle), life jackets for each person, gas, and fish cleaning upon request. While on the water, passengers are not only fishing, but also treated to history of the area, while watching for eagles, ospreys, and such shoreline wanderers as waterfowl, and occasional elk and bison. Maximum of 6 passengers.

SCENIC LUNCHEON FLOAT TRIP
Sit back and relax on a ten mile float along the Snake River with amazing Teton views. Your experienced guide does the paddling and shares an in-depth knowledge about the local flora and fauna. Bird life abounds with eagles, hawks, storks, herons, and migratory birds flying alongside the raft. You might also see a moose eating willows or river otters playfully swimming along the banks. Approximately 4 hours, including a western cookout at a private meal site, featuring fresh river trout and charbroiled steaks. Ages 6 and above.

Map

More Details

Our Triple Park Tour includes recommendations, directions and history for a driving and hiking adventure through the following areas.

BADLANDS NATIONAL PARK
Including the Ben Reifel Visitors Center, Wall Drug, the Windows Overlook, the Fossil Exhibit Trail, Yellow Mounds, Pinnacles Overlook and more! [$15 entrance fee]

CUSTER STATE PARK
Including the Wildlife Loop, Needles highway, Iron Mountain Road and the pigtail bridges and more! [$15 entrance fee] MT RUSHMORE There is a lot to see and do at Mt Rushmore; a 30 minute Ranger Walk along the Presidential Trail, a 15 minute Sculptors Studio Talk, and a 30 minute audio tour. You might also spend 10-30 minutes visiting the Lakota Heritage Village. [$11 parking fee]

DEVILS TOWER NATIONAL MONUMENT
A monolith or volcanic neck that rises a dramatic 1267 feet (386 m) above the surrounding terrain. The Tower is sacred to several Native American Plains tribes, including the Lakota, Sioux, Cheyenne and Kiowa. [$10 Admission fee]

YELLOWSTONE NATIONAL PARK
Including Mammoth Hot Springs, Lamar Valley, Grand Canyon of Yellowstone, Norris Geyser Basin, Old Faithful and more. [$25 Admission fee]

GRAND TETON NP
Including Moose, WY, Jenny Lake, Inspiration Point, Native American Museum, Leeks Marina and more. [$25 Admission fee]

*Please note the cost of entrance is not included in the package price.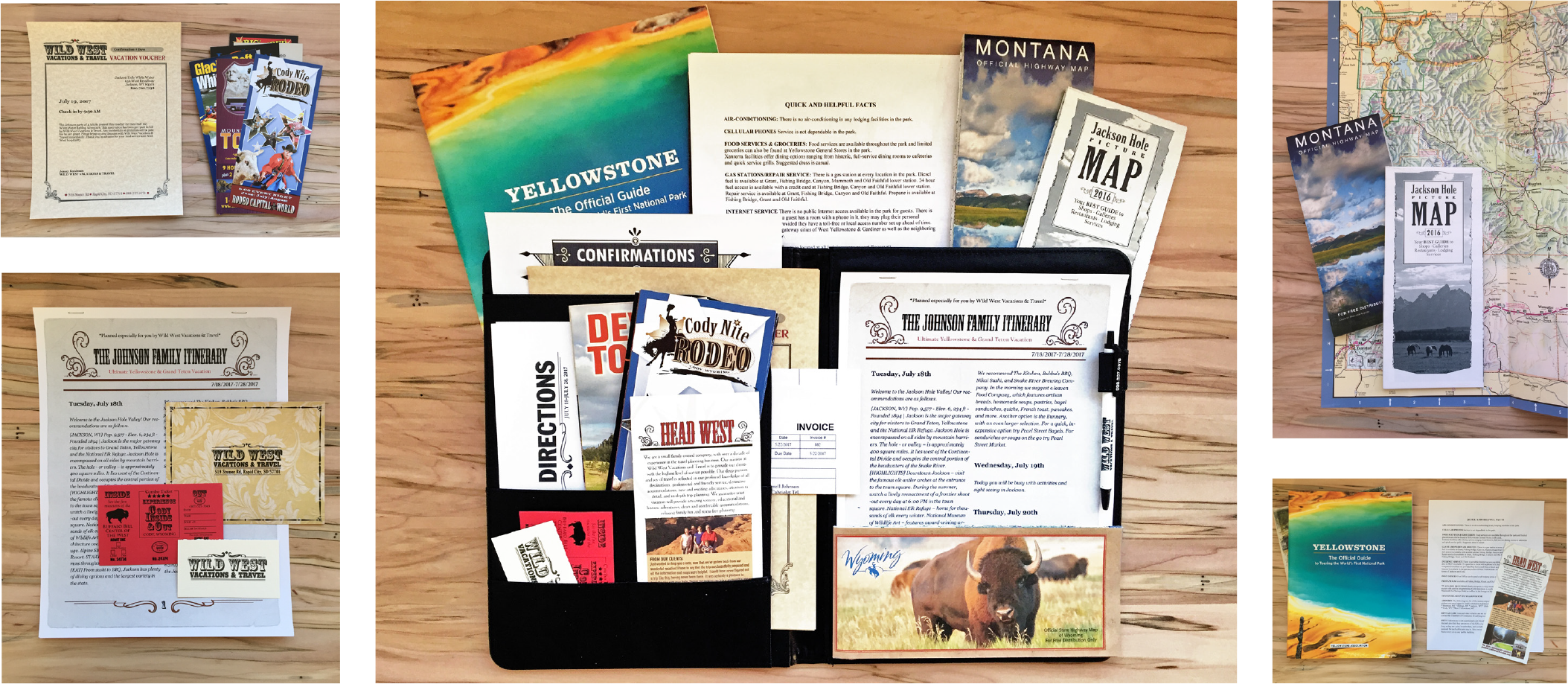 Vouchers & Brochures
You will receive vouchers and brochures for all of your accommodations and activities. Check-in quickly with confidence and ease.
Wild West Vacation Folio
Your personalized vacation folio is full of helpful information, vacation documentation and personal recommendations.
Itinerary
We take great pride in providing you a day-by-day itinerary with history of the area, sight seeing, hiking options, dining recommendations and more.
Maps & Directions
We provide city and state maps marked with your route, along with point a-to-b directions for every step of the way.
Extras
From what to pack for you Wild West Vacation to special events listings to area guidebooks, we've got you covered.
We guarantee this package will provide amazing scenery, educational and historic adventures, clean and comfortable accommodations, relaxing family fun and stress-free planning. Accommodations are subject to availability.